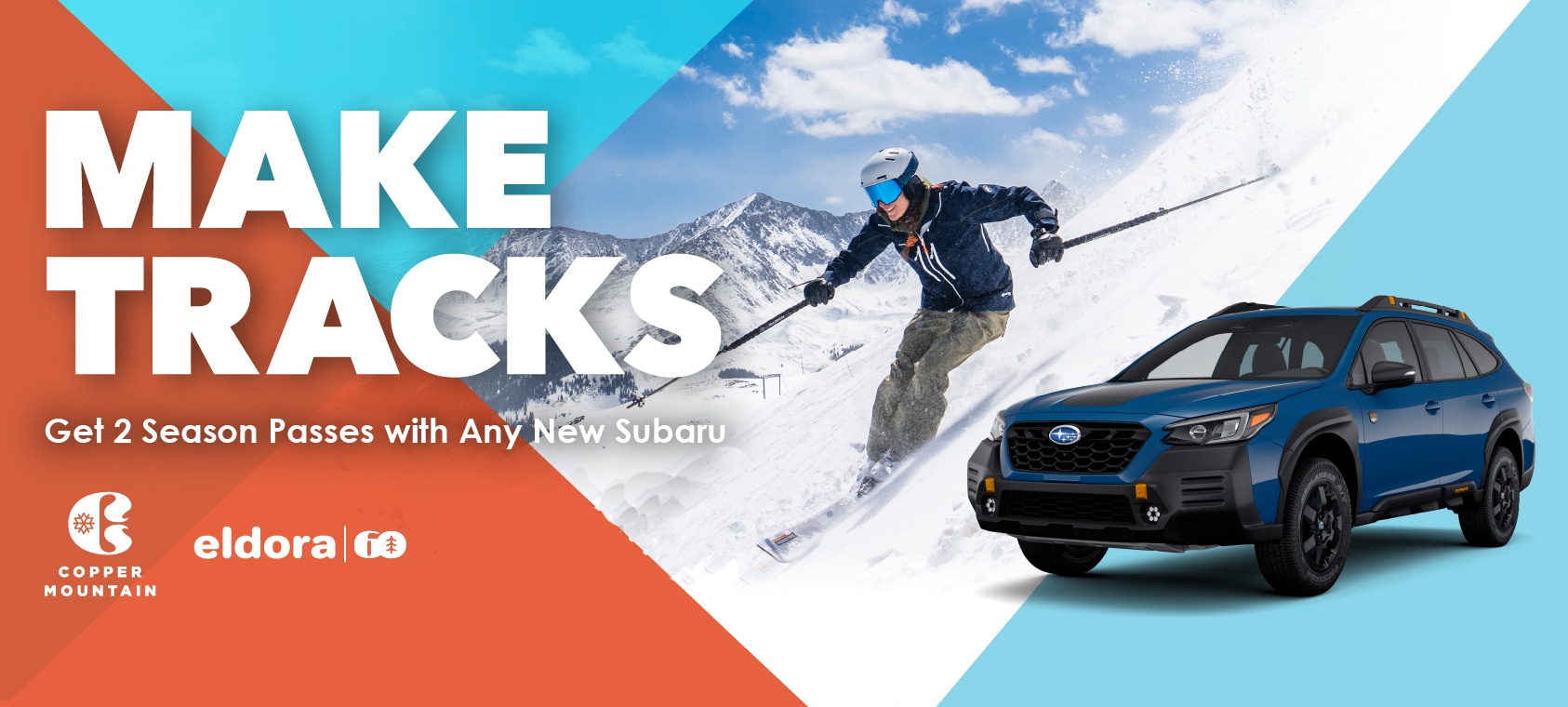 At Dellenbach Subaru, we share your love for the outdoors.
That's why, this fall, a new Subaru is your ticket to more time on the mountain.
We crave new adventures. The cold rush of gliding down the mountain. The freedom of floating in powder. The camaraderie and memories that are built through shared experience. That's why nothing handles winter roads to get you where you love to be like a Subaru.
Dellenbach Subaru wants to help you make tracks in more ways than one. Because when you buy or lease any new Subaru between December 15, 2022 and January 31, 2023, you'll receive two season passes to either
Copper Mountain
OR
Eldora
.
Plus, you can trust Standard Symmetrical All-Wheel Drive in every new Subaru model to help you travel tough winter roads with total confidence.
Start exploring our award-winning selection of vehicles now by clicking the link below.
START SHOPPING
Promotional time period: You must buy or lease any new Subaru between December 15, 2022 and January 31, 2023 at a participating Subaru dealer in order to qualify.
Season Pass details: The (2) season passes are valid at Copper Mountain OR Eldora, not both. The purchaser can select their preferred resort at the time of purchase. Season passes are valid from your date of purchase, within the promotional time period, through the end of the winter season, weather permitting. The passes are only valid for Copper Mountain or Eldora, and do not include any privileges or discounts at any other resorts.
Season passes provided courtesy of Copper Mountain or Eldora when you buy or lease any new Subaru by January 31st , 2023. Negotiate your best deal, then receive the season passes.
Who may use the passes: The (2) Copper Mountain or Eldora season passes may only be issued to the purchaser or an immediate family member of the purchaser which includes the following : spouse, domestic partner, mother, stepmother, father, stepfather, sister, stepsister, brother, stepbrother, son, stepson, daughter, stepdaughter.
How to claim your passes: Your Subaru salesperson will assist you by entering your information into our web database and the system will send both the purchaser and passholders an email confirmation with redemption instructions. Passes are not redeemable for cash. Passes are not valid for any other year besides the 2022/2023 ski season. Passes may not be substituted for other items.
The length of time a ski resort is open during a given year is subject to many factors including weather, viruses such as COVID, as well as many other factors. There will be no refunds or extension of usage if the season is shortened for any reason.