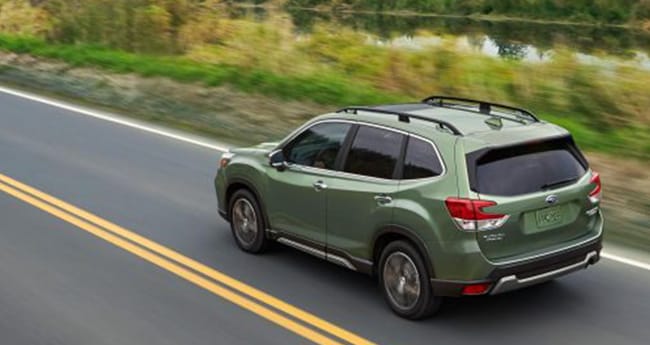 At Dellenbach Subaru, we want to remind our customers that we're partnering with Subaru to not only make the buying experience as safe as possible, but to provide relief when necessary on financing and lease payments. Subaru is also offering 0 percent financing for 63 months on 2020 Ascent, 2020 Forester, 2020 Impreza, 2020 Legacy and 2020 Outback models.
Dellenbach Subaru is pleased to be Northern Colorado's preferred Subaru dealership for new and used Subaru vehicles in Colorado. Loveland, Windsor and Wellington drivers are invited to visit us, just south of Colorado State University at 3103 S. College Ave. Please continue reading to learn about the extra steps we're taking to ease the impacts of COVID-19.
Deferred Payments for Current and New Subaru Motors Finance Customers
If you can continue making your vehicle loan or lease payments, please continue to do so.
SMF Lease-End Extension:
If your SMF lease is scheduled to end in the near future Subaru will automatically extend it. By continuing to make your monthly payments, you may extend the term of your Lease Agreement for up to six months to allow you extra time and flexibility. No phone call is needed to confirm your extension. You will receive a letter or email from Chase for more information about the lease extension.
SMF Lease-End Vehicle Returns:
If you do not wish to take advantage of the lease-end extension and want to coordinate the return of your vehicle, please contact Subaru Motors Finance.
If you have other questions or need other assistance with your account you can contact Subaru Motors Finance for answers to common questions or call the number on your statement.
If you're active duty military or have been activated to respond to a disaster, you may be eligible for additional benefits. Please call our military services hotline at: 1?877?469?0110

New Car Buyers
During this time, if you need to purchase a vehicle, Subaru Motors Finance (SMF) can help ease some concerns with the Subaru Payment Deferment Program. With this program, you may be eligible to defer your payments for up to 90 days when you purchase select vehicles and finance through SMF.
---
Get service for your Subaru vehicle
Keeping your Subaru maintained and running, particularly for those on the front lines of fighting COVID-19, is an essential service. Dellenbach Subaru is here to help.
Dellenbach Subaru is undertaking enhanced measures for cleaning and sanitation to help support the safety of employees and customers.
We are also providing alternative methods of vehicle service – including pick-up and drop-off, expanded service loaner fleet, and mobile repair.
---
Liberty Mutual Personal Auto Customer Relief Refund
Liberty Mutual is issuing its personal auto insurance customers a 15% refund on two months' of their annual auto premium as of April 7, 2020, pending regulatory approval. Beginning in April, the refunds will be issued automatically, either by check or in the manner the customer made their most recent payment.
Learn more
.
---
The Subaru Customer Advocacy Department has new operating hours
Subaru's Customer Advocacy Department is ready to give you the same great service and quick answers that you've come to expect. But as part of our efforts to help keep our Subaru family and the community at large safe and healthy, the department will be working from home and modifying its operating hours to be available to assist you from 8:30 a.m. to 5:00 p.m. Monday through Friday, and from 9:00 a.m. to 3:30 p.m. on Saturday. (All times EST.) Call us at 1-800-SUBARU3 (1-800-782-2783)
---
If you have any questions, please do not hesitate to contact Dellenbach Subaru. Loveland, Windsor, Fort Collins and Wellington drivers are invited to reach out for help with Subaru lease and financing questions. If you're looking to purchase a new or used Subaru in Fort Collins, Colorado, please call or email. Our internet sales and service department remains open and ready to help!