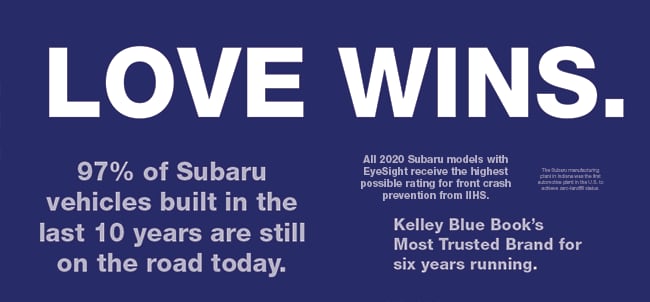 For 2020, Subaru wins Best Overall Brand among non-luxury automakers for the third time in the past five years. Subaru achieved the highest average score across all ratings of non-luxury models to win the Best Overall Brand. In addition, Subaru takes home specific awards this year for Most Trusted Brand and Best Performance Brand. Subaru's wins are based on the automaker's reputation for delivering safe, spacious, fuel-efficient vehicles that satisfy the needs of both everyday consumers and those seeking increased utility/performance at the right price point.
As of April 8, Subaru earned awards in the following three categories:
•
Best Overall Brand: 3 years cumulative. Subaru continues to be among the hottest brands in the industry. With new offerings like the Ascent, and successful redesigns on Legacy, Forester, and Outback, our trajectory continues to point upwards. As KBB describes, Subaru "has established a reputation for delivery brand-specific features like all-wheel drive on all its volume models and leading-edge safety with Eyesight".
•
Most Trusted Brand: 6 years running. Nothing new here! We're a repeat winner, and as described by KBB, "Subaru continues to build customer trust with its commitment to all-wheel drive and safety as brand cornerstones". Given our consistent victories in this category, it's safe to say we have built our brand's value based on trustworthiness, and that has translated into a lot of success.
•
Best Performance Brand: Making reappearance after a bit of hiatus. This is the 4th cumulative year we have won this award. We were awarded based on Subaru's "solid reputation for safety and all-wheel-drive traction". KBB goes on to state that Subaru also has a "wild side, as evidenced by its recognition for performance by the KBB.com audience." With WRX/STI and BRZ at the forefront, Subaru has a great product offering to provide thrills to performance-seekers at an affordable price.
---
If you're looking for a new or used Subaru in Fort Collins, visit Dellenbach Subaru. Loveland buyers, Windsor and Wellington buyers will all enjoy Dellenbach's top-notch customer service and great prices. If you're in the market for a 2020 Ascent, 2020 Forester, 2020 Impreza, 2020 Legacy or 2020 Outback, Subaru is offering 0% financing for 63 months or 0.9% for 72 months. Visit Dellenbach Subaru, just south of Colorado State University at 3103 S. College Ave.